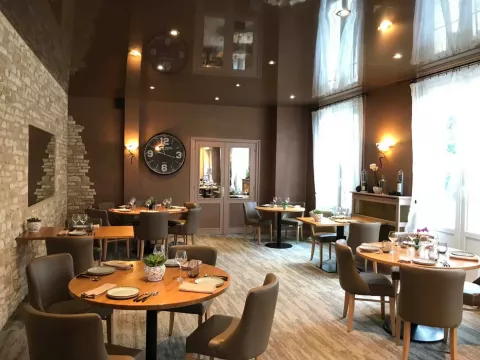 restaurant Gastronomique
Two bright restaurant rooms and a terrace in the summer are at your disposal to enjoy a gastronomic cuisine prepared with fresh local products.
Possibility of family or business meals in a private room. The service is lively or adapted to your convenience.
Norman cuisine is determined by its geographical position, which benefits from the fertile lands of Normandy. The land provides an abundance of agricultural produce, while the sea provides a generous supply of fish and shellfish. In addition, the Normans' use of butter and cream in their cooking is almost legendary.
Les Airelles, Hotel in Normandy in the Pays de Bray
Hotel in Normandy in the Pays de Bray
The Hotel Restaurant "Les Airelles" is located in the heart of the Pays de Bray, in the town centre of Neufchâtel en Bray, near the shops and the church. Member of the association "Bray Gourmand" and of the "Toques Normandes", the owner will propose you a gastronomic cooking from fresh local products.
The spacious and comfortable rooms will welcome you to make your stay a haven of peace and well-being.
When you come back from the beach or from a walk, the hotel Les Airelles welcomes you in its garden terrace for a relaxing moment...
Cards
Starter
Smoked salmon carpaccio 16 €
Duck foie gras with currant flawour 18 €
Roasted Gambas with Artichoke 17 €
Seared foie gras with honey and dried apricot sauce 20€
Meat
Veal medaillon 18€
Beef fillet topped with a slace or seared foie gras 22€
Veal sweetbreads cooked with butter, parsley and lemon 20€
Fish
Sea bass fillet cooked with butter parsley and lemon sauce 18€
Fish of the Moment with butter and lemon 22€
The cheese board 9€
Desserts
Ice cream or sorbet 6€
Pomme caramélisée comme une mille-feuille 8 €
Lemon and Apricot yogurt 8€
confit kumquat and dried fruit chocolate ganache 8€
Chocolate spring rolls with salred butter caramel 10 €
RAsberry, coconut panna-cotta 8 €
Horaires restaurant
Wednesday
12:00-14:00
19:00-20:30
Thursday
12:00-14:00
19:00-20:30
Friday
12:00-14:00
19:00-20:30
Saturday
12:00-14:00
19:00-20:30